The AMR Centre recently participated in a UK – China partnership-building mission to China's capital, Beijing, as well as Shanghai.
AMR Centre's Chief Operating Officer, Dr. Derek Lindsay, joined participants from the UK as part of an Innovate UK-led partnership building mission, with AMR as the focal issue.
The visit consisted of two partnering workshops, which included a visit to Beijing, and a visit to Shanghai, and various meetings. The aim of the visit was to create connections between UK companies, UK academics, Chinese companies and Chinese academics, in order for them to apply for funding to support AMR research and development. Innovate UK is running a new competition for 2018 that will make up to £10 million available to UK organisations to work with Chinese partners. Innovate UK will invest in the UK organisations, and the Chinese Ministry of Science and Technology (MoST) will invest up to £60 million RMB to fund the Chinese partners. The aim is to support novel projects that neither country would be able to conduct within the same timeframe without the other's expertise.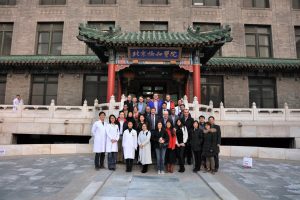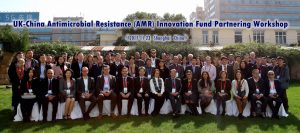 It has been estimated that failure to tackle AMR will lead to at least 10 million extra deaths per year by 2050, costing the global economy £100 trillion USD.
Partnership workshop #1 consisted of a visit to Beijing's PUMC Hospital. The delegation spent time touring the bacteria-testing clinical lab, as well as the infection control department. The delegates also spent time with Chinese health officials, to discuss challenges in the Chinese healthcare system, as well as the rise of Anti-Microbial Resistance (AMR) in China.
Partnering workshop #2 involved a visit to the Chinese National Compound Library in Shanghai, a major pharmaceutical research and development establishment. Furthermore, the delegation visited the Shanghai Veterinary Research Institute, to discuss the issues of AMR within the animal world, and how this can affect human health via the food supply. Whilst in Shanghai, the visitors were also joined by UK academic delegates from the UK's Global AMR Innovation Fund (GAMRIF).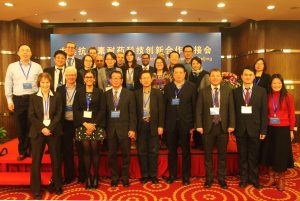 Commenting, Dr. Derek Lindsay said, "It was great to visit China, to build links with businesspeople, academics, and institutes.
"The problem of Anti-Microbial Resistance is an international one, and it is very exciting to think of what partnerships between the UK and China can achieve to tackle AMR."