The AMR Centre was delighted to be invited to join a recent UK trade mission to Switzerland.
AMR Centre's Communications Executive, Carl Curran, joined over a dozen participating UK Life Science delegates as part of an Innovation Switzerland-led partnership building mission.
The delegation visited key scientific and academic sites in Zurich and Basel, including ETH Zurich, Park Innovare, the Paul Scherrer Institute (PSI), and Switzerland Innovation – Basel.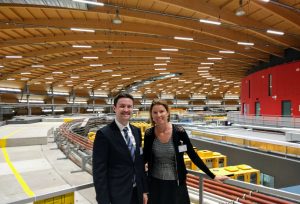 This was followed by the delegation attending Swiss BioTech Day 2018. UK delegates participated in all the sessions, events, and partnering opportunities of the Conference. The AMR Centre spoke and presented at the Conference, and showcased the capabilities of the AMR Centre, Alderley Park, and the UK to international delegates.
Commenting, Carl Curran said, "It was great to visit key scientific sites in Zurich and Basel, and to see some of the wonderful work being done by our Swiss and international colleagues.
"The mission was the ideal opportunity to highlight the rising tide of AMR, and to showcase the vital work being done by the AMR Centre in the UK, to tackle this global health crisis."